NJP Fully Automatic Capsule Filling Machine
Item No.: LPMIE112
NJP800 Automatic Capsule Filling Machine is designed opposite to the normal models in the market, and it has been developed to fully enclose stations to ensure their flawless performance. And it adopts the advanced technology at home and international
Login to see price
INQUIRY
Description
NJP Automatic Capsule Filling Machine is designed opposite to the normal models in Chinese market, and it has been developed to fully enclose stations to ensure their flawless performance. And it adopts the advanced technology at home and international similar products. The whole machine appeared as humanity, automation, stability, beautiful, and in accordance with GMP standard.
Features
1. It has been improved the inner design turret, and imports beeline bearings for each machine from Japan directly, so that it can be sure a longer usage-life and precision of machine.
2. The working station cam runs under the good lubricating condition, and maintains the inner lubrication of cam slot to a full extent, increasing the computer, has a stepless timing with the frequency-conversion, the numeral showing makes an easy operation and clear appearance.
3.The multi-bore dosing brings a precision dosage (it Is controlled around士3.5%); The capsule qualified rate is higher than 99%. It can be filled with the Chinese traditional medicine and the Western medicine.
4. It has a protector equipment for the operator and the machine. It has automatic pause equipment when it is lack for the material. It has a steady and safe working, It Is the best choice for the hard capsule made factories.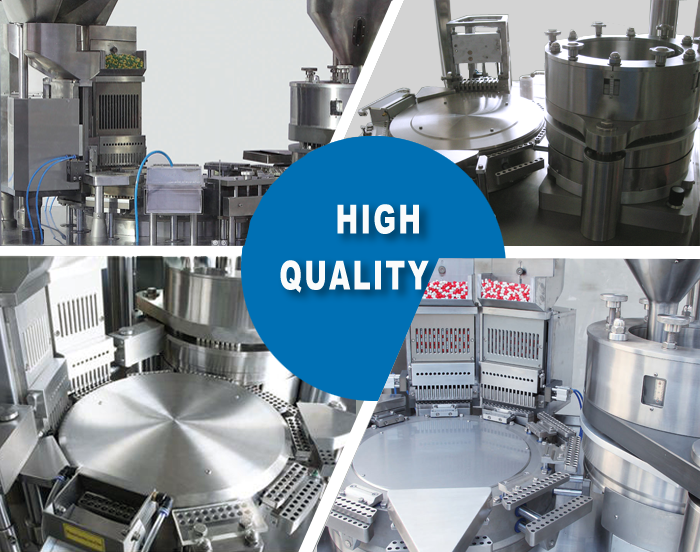 | | | |
| --- | --- | --- |
| Machine Model | NJP-800 | NJP-1200 |
| Filling dosage | Powder,Pellet,Tablet | Powder,Pellet,Tablet |
| Capsule Size | Suitable for filling capsule size 00#-5# Supro/safefy capsule size:A-E | Suitable for filling capsule size 00#-5# Supro/safefy capsule size:A-E |
| Max. Output | 48000 Capsules/H | 72000 Capsules/H |
| Power Supply | 380V 50Hz 5.05kw | 380V 50-60Hz 5W |
| Noise | <78dBA | <78dBA |
| Dimension | 930*790*1930mm | 970 x 780 x 1800mm |
| Capsule Feeding Rate | ≥99.5% | ≥99.5% |
| Dosing Precision | ≤±3% (Filling volume is >300mg, 40-80 particle filling after granulation) | ≤±3% (Filling volume is >300mg, 40-80 particle filling after granulation) |
| Compressed air | 0.06m3/min 0.3Mpa | 0.06m3/min 0.3Mpa |
| Water source | Water ring vacuum pump tank | Water ring vacuum pump tank |
| Vacuumize degree | -0.02~-0.06 MPa | -0.02~-0.06 MPa |
| Net weight | 800kg | 800kg |
Technical Parameter